Multiple Ways to Earn Raffle Tickets
Predict the tournament, or go to individual streamer pages to place wagers, complete challenges, and predict outcomes!
Drawing begins at
09:02 pm PST
Raffle Drawing Will Begin Shortly
NOT ENOUGH
TICKET HOLDERS
Please stay tuned for tomorrow's drawing
REVEAL

WINNER
Raffle is not drawn
20,000
COINS |
10,000
BOOM BUCS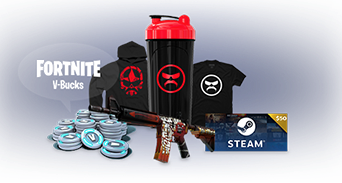 TODAY'S PRIZE: 10,000
win raffle and redeem your Boom Bucs for streamer merch, steam gift cards and more in the Store!
RAFFLE RULES: In order to participate in this raffle drawing. You must have earned at least 1 ticket. Tickets are drawn at random. No purchase is necessary to win.
Raffles must meet the daily minimum requirement of ticket holders. If ticket holders do not meet the minimum requirement, the raffle will be held the next day.